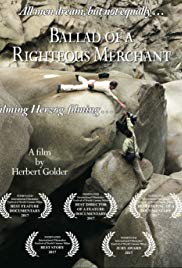 Episode 9 in our season of documentary films featured in this year's Melbourne Documentary Film Festival!
Ballad of a Righteous Merchant

 
Keeping it short on this one as it's a short feature. Part doco on the legendary Werner Herzog, part making-of of his 2009 feature, My Son, My Son what have ye done?.
PS - The book Chris mentions but can't recall is called:
 A Guide for the Perplexed: Conversations with Paul Cronin
Discover more about the festival here.
What are your thoughts?
Get in touch using  Twitter  
or email us  chris@docsfactor.com
Don't forget to !subscribe!
If you enjoyed this episode, we would be very grateful to you for a rating on Apple Podcast/iTunes.
Why not check out our back episodes or better still, subscribe on  iTunes
or  Podbean and never miss an ep!
Oh! and check us out on Leterboxed here.
Share
|
Download