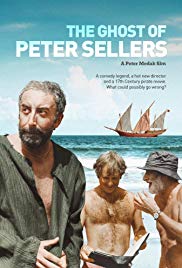 Episode 10, the finalé in our season of documentary films featured in this year's Melbourne Documentary Film Festival!
The Ghost of Peter Sellers
Trust us when we tall you there are no ghosts in this episode but, if you are a fan of cinema; filmmaking; Peter Sellers and documentaries, then this is a must watch!
We try to give (as usual) a spoiler free discussion about this film whilst also offering our closing thoughts on all the films we've discussing in this season.
PS - Do please excuse the background noise of the heavy rainfall outside our recording! 
Huge thanks to all the film makers for allowing us access and getting in contact with us, to the guys at MDFF and to all of you dear listeners!
Discover more about the festival here.
What are your thoughts?.....
Get in touch using  Twitter  or email us  chris@docsfactor.com
Don't forget to !subscribe!
If you enjoyed this episode, we would be very grateful to you for a rating on Apple Podcast/iTunes.
Why not check out our back episodes or better still, subscribe on  iTunes
or  Podbean and never miss an ep!
Oh! and check us out on Leterboxed here.
Share
|
Download