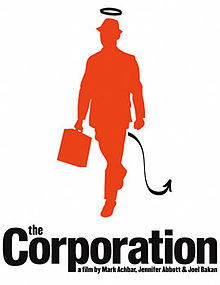 This week, Neil & Chris are joined with guest host Danny who is one of our listeners and selected this week's film for discussion: The Corporation. Danny joins us with a love of documentary films all the way from Toronto, Canada.
We hope you all enjoy listening and if you too have a favourite documentary film you think should feature, and you are happy to come on the show to tell us why (no pressure!) then please do get in touch, we love hearing from you!
Don't forget - you can listen, rate, subscribe & review all our episodes on iTunes or follow us on Twitter!
What Danny said of the epsiode:
"Again, I had an awesome time chatting with @PsychChris101 and @interacter for Ep. #21. I highly recommend the suggestion/guest experience."
BIO: Daniel Clarkson Fisher is a video activist whose work has been featured by Vimeo Staff Picks, The AV Club, No Film School, io9, Film School Rejects, Boing Boing, Films for Action, Movies.com, and Filmscalpel. In addition, his writing has appeared in outlets that include AlterNet, Bright Lights Film Journal, Nonfics, Diabolique, and Culture Matters.
Danny lives in Toronto with his wife Stephanie Lyn, and is currently a student in the Master of Fine Arts in Documentary Media program at Ryerson University. He is a graduate assistant at the institution and a member of IWW Educational Workers Industrial Union 620 and CUPE Local 3904, Unit 3.
Follow Danny on Twitter See his Vimeo site
Find out more about the film here when there is even talk of a sequel in the works! Or watch the film on YouTube!
Thanks for listening! 
Share
|
Download